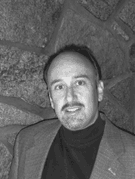 Nothing paints a mysterious and suspenseful story better than one based on a profound and ancient conspiracy. It is evident that David S. Brody knew this full well when he penned his excellently written and powerfully depicted novel of intrigue, suspicion and adventure titled, Cabal of The Westford Knight: Templars at the Newport Tower. In this fast-paced and thorough treatise on ancient religious rituals and beliefs, Brody has woven together the ancient past and the curious present to create very compelling and believable tale of discovery and revelation.
____________________________________________

David S. Brody is a Boston Globe bestselling fiction writer. He serves as a Director of the New England Antiquities Research Association (NEARA) and is an expert on the subject of pre-Columbian exploration of America. A graduate of Tufts University and Georgetown Law School, he resides in Westford, Massachusetts with his wife, novelist Kimberly Scott, and their two daughters. In his spare time he coaches youth sports and Special Olympics, skis, and plays on adult ice hockey and softball teams.

____________________________________________
Mr. Cameron Thorne is a lawyer going about his business. Representing an elderly man and woman who are trying to keep from losing their home, Thorne runs headlong into a mystery that has been hidden from the outside world for centuries. This is not just some family secret. In fact, Cameron Thorne has uncovered a conspiracy that could actually cost him his life. Long suppressed by the Catholic Church, this conspiracy is one that the Church must make sure remains unknown.
As a result of this tumultuous unearthing of ancient actions and deeds, Thorne has no choice but to strike and run, as his pursuers, religious fanatics from two radical groups, seek to hunt him down and silence him. Fortunately, Thorne does not have to fight this battle of wits and intrigue alone. He has the good fortune to meet one British researcher of ancient artifacts, named Amanda. She too is on the run, tracked by t
he same groups who are seeking to stop Cameron Thorne. Together, they form a bond and a single-purposed plan to tie the fragments
of this deadly mystery together, which they gather from many places across the Northeastern part of the United States. These two realize that their enemies have no choice but to stop the two intruders from unearthing their historical secrets. For, if they, Thorne and Amanda, are finally able to repaint the entire picture, the truths they will have revealed risk shredding the church into pieces.
There is an obvious and appropriate comparison between Davis S. Brody's excellent work and The Da Vinci Code by Dan Brown. Though the strength of Dan Brown's work cannot be minimized, I feel that Brody's work is better researched, more believable and that Brody's style and plot possesses more elements that will entice the reader to want to dig into this book until the very last page. I felt as if I was there with these two very intelligent hunters of ancient lore.
The massive amount of research that had to go into t
his first
-
class
novel must have been staggering. Coming from David S. Brody,
great
r
esearch and explanations one can wrap their hands around is what
he d
oes best. His others books, such as The Wrong Abraham, Blood of
the Tribe, Unlawful Deeds and America's History are excellent example
s of Brody's ability to take readers into another time and place and to make it come alive in our time, today. He has simply carried this tradition of excellence in writing over into this new novel, Cabal of
The Westford Knight: Templars at the Newport Tower.
If you love
intrigue, conspiracy and history all woven together into an action-packed suspense drama with deadly repercussions, then you will love this story.
Move over Da Vinci Code. There is a new novel, now in print, that bears all the makings of a phenomenal literary success. I highly recommend Cabal of The Westford Knight: Templars at the Newport Tower by David S. Brody. It's a read that will keep you reading until the very end.

Steven Clark Bradley
Author of
Patriot Acts
Nimrod Rising
StillBorn!
Probable Cause
~~~

David S. Brody In His Own Words
Cabal of the Westford Knight: Templars at the Newport Tower is a novel inspired by the legend of the Westford Knight. The legend recounts how Scottish explorers secretly visited Westford, Massachusetts in 1398, where they carved an effigy in stone to commemorate the death of a fallen comrade, a carving that remains visible today. But who were these explorers, and why did they come? Well, that's where the fun begins!
As I began researching this book--visiting ancient sites and inspecting ancient artifacts around New England--I was amazed at the sheer volume and weight of evidence supporting the legend of 14th-century European exploration in North America. Even more amazing was the evidence I discovered when researching the European side of this story: This expedition was led by Prince Henry Sinclair of the famous Sinclair clan--builders of Scotland's Roslyn Chapel and the family made famous as being named heirs to the Jesus bloodline in Dan Brown's The Da Vinci Code. When I learned that the lost treasures of the Knights Templar had been entrusted with the Sinclair clan in the early 1300s, I knew I had the makings of a compelling suspense novel. But when I studied the stone carvings of Roslyn Chapel and delved into the history of the Knights Templar, I knew I had stumbled into the kind of dusty corner of history where the seeds of fascinating historical fiction are found: It was entirely possible that Prince Henry Sinclair and his group of medieval explorers had come to America not just to explore, but were here to establish a new society that rejected the teachings of the Church and instead focused on ancient pagan beliefs--beliefs that, ironically, mirror many of the values upon with our country was later founded.
A long way from a rock carving in Westford, you say? I agree. But here I am, and I feel pretty confident that I have the story right. This much, at least, is clear: Somebody was here, and they came for a reason.
My research has taken me on a wild ride. I hope you enjoy reading Cabal of the Westford Knight as much as I did writing it. -

Author David S. Brody


~~~

What Are Others Saying?
BRODY HAS OUT BROWNED BROWN
WITH THIS ONE. A DELIGHTFUL READ!
March 1, 2009


By D. Blankenship (The Ozarks)
It is tempting to compare this work to that of Brown's Da Vinci Code. To be quite frank though, David S. Brody has out Browned Brown with this one. Now that being said, I will be the first to admit that I am not a Brown fan and absolutely despised the Da Vinci Code. This book however, was an absolute delight and once started, was difficult to put down.


It is rather difficult to give a plot summation here as each and every chapter adds new twists and turns to this story, and it is almost impossible to discuss the plot without adding spoiler after spoiler. Briefly though, the story actually begins in 1399 with Henry Sinclair lands in the New World with a group of men comprised of warriors, craftsmen and men of the cloth. After established the landing, and after the death of James Gunn, Sinclair's second in command and his burial, the story jumps to the present time. A young lawyer and a young English girl become embroiled in a sinister plot by various secret organizations to try to foil the efforts of any who may uncover the secret carried to North America by Sinclair and his group of Scottish warriors. The body of the story takes place in New England as the author has his characters flitting here and there trying to unwind this complex mystery. The Church, Knight Templers, right wing South American Organizations and more are all included. The core, The Knight Templers has always been a fascination of mine.


This work is a mixture of historical fact, historical speculation and extreme skillful story telling on the part of the author. It is truly what I would call a "page turner." I will right now admit to being one of those individual who firmly believe that Columbus was a Johnny-come-lately to the New World and was quite likely preceded by the Norse, Japanese, Chinese, Phoenicians, and a rather large number of other cultures, some who have completely disappeared in the fog of history. I am quite familiar with the archeological sites mentioned in this particular work and have followed their progress for a number of years, along with other threads historians and archeologists have been following over the past several decades. It took only a small leap of my imagination to find validity in much of what the author has written. Now that does not mean I believe the fictional part of the story...hey, a good story is a good story, but I do feel that the author has used enough archeological evidence to make his fictional tale quiet believable


One of the techniques and ploys the writer has used in this work is photographs of each and every site and artifact (with the exception of two, which he admits to having made up), and wonderful maps. This adds an aspect of realism to the story not normally found in novels of this ilk. I read very little historical fiction, but when I do read it, I want it well researched and I want it based, even loosely, on documented facts. The author has more than adequately done this with this work.


Above all though, as to reading pleasure goes, David Brody is an absolute natural story teller and has been blessed with the skill to articulate his stories in the written word. This is becoming a rather rare phenomenon of late and it should be appreciated by anyone who enjoys a good, action pack and believable story. The author has given us a good mystery, plenty of action, believable characters, both likable and unlikeable, a bit of romance and as a plus, a very good lesson in history. The author has also been kind enough to give us some great resource notes for further reading and research of this fascinating subject.


I do have to recommend this one highly as I enjoyed each and every page. Bottom line: This is one fine read!
Don Blankenship
The Ozarks